Customized solutions for
optimal health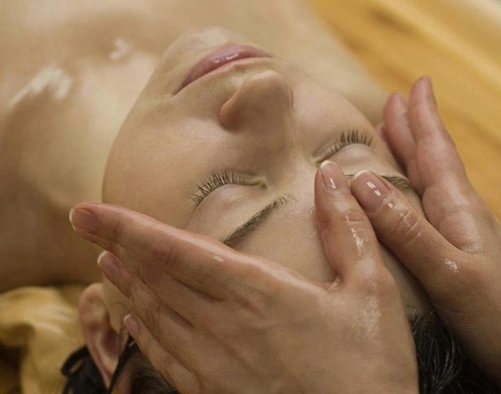 The supreme discipline of Ayurveda is called "Panchakarma", a deep-reaching detoxication-, cleansing- and regeneration-process, which is lead and accompanied by an experienced Ayurveda-specialist who plans and monitors the measures according to your individual dosha-type.
Regeneration Cure Rasayana
The energy provided by our body is exhaustible, but we need it every single day. Similar to a rechargeable battery, our body must be reloaded continuously by eating, breathing and sleeping.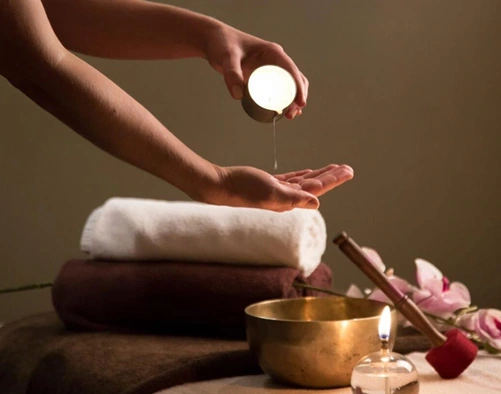 Many chronic diseases can be treated very well with Ayurveda medicine. In particular, these are:

Eine sehr angenehme Behandlung hatte ich . Sehr freundlich und professionell. Ich komme gerne wieder .
Sylvia Berger (Sylvi)
2023-03-20
Vielen lieben Dank für diese wunderbare Ayurveda Kur. Für mich ein tolles Erlebnis welches ich nur weiter empfehlen kann. Danke an alle Therapeuten und Ärzte ihr macht eine wirklich tolle Arbeit. Bis nächstes Jahr 🫶😊🧘‍♀️
Freelancerin27
2023-02-01
Mein Aufenthalt liegt schon etwas zurück, ich habe diesen Ort weiter empfohlen. Abgesehen davon, dass er er schön gelegen ist, ist diese ganzheitliche Betrachtung der psychischen und physischen Gesundheit der einzige Weg der GesundERHALTUNG, da braucht es keine "Impfungen"
I felt in very good and professional hands, both with my doctor as well as the therapists. They understood my issues and treated them very professionally. Many thanks to the whole Ayurveda team!
Patricia Freundlieb
2023-01-22
Ich hatte die Rasayana Kur gebucht, ideale Abstimmung auf die Konstitution mit Behandlungen und Essen, tolle Beratung indischer Ärzte, sehr einfühlsame und freundliche Therapeuten. Ich komme in jedem Fall wieder.
Florence Nance
2023-01-19
Ich habe mich sehr wohl gefühlt. Das Team ist super und die Anwendungen wurden während der täglichen Konsultationen auf mich abgestimmt. Die Massage etc. waren sehr heilsam wie auch das tägliche begleitende Yoga. Das ayurvedische Essen hat mir sehr gut geschmeckt. Insgesamt ein super Start in das neue Jahr.
Peggy von Itter
2023-01-12
Es hat mir sehr gut gefallen, es waren alle sehr nett und freundlich und auch immer hilfsbereit. Die ayurvedischen Anwendungen waren sehr angenehm und taten sehr gut, die Ayurvedische Vollpension ist auch zu empfehlen, es hat mir sehr gut geschmeckt und war auch abwechslungsreich.
How much does Ayurvedic Treatment cost in Madukkakuzhy Ayurveda, Kerala?
Our tariff is based on a per day basis. It will vary depending on the centre you choose and the room category.
What all are included in the package?
Doctor consultation
2 ayurveda treatment /day ( morning – major treatment of 60 min and evening minor   treatment of 20-30 min)
Medicines during the treatment
Accommodation
Yoga
Full board vegetarian meal as per the diet prescribed by doctor.
What payment methods do you accept?
For booking confirmation an advance deposit is required , which will be mentioned in your booking advice. We accept all credit cards.
Does anyone on your team speak German?
Our senior doctors and therapists can handle German language.
What all items should be carried to the retreat?
We provide basic toiletries, bed and bath linen. Kindly carry with you cotton clothes and walking shoes.
Do you offer airport pick up and drop?
Browse through our
latest updates