WITH AGATHA HEIM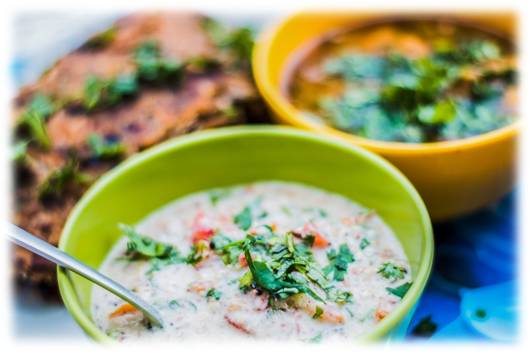 23 & 24 April 2022
in Bad Kissingen
Food and spices are magical in Ayurveda. Properly prepared, they seduce our senses and connect body, mind and soul.
Ayurvedic cooking is a special way of preparing food in such a way that it preserves and promotes the health of body and mind. The right nutrition according to the constitution of the body plays the central role. After an insight into Ayurvedic nutrition, you are invited to conjure up an enjoyable, vegetarian menu. They cook with food and spices from predominantly organic and regional cultivation. Afterwards you can enjoy the beautifully prepared dishes and simply enjoy!
The cooking seminar can be booked as a two-day course or individually as a one-day course. On Saturday you will cook dinner variations, on Sunday a complete Ayurvedic menu. After each day of the course, you will receive the recipes for all the dishes prepared, along with a sample to take home.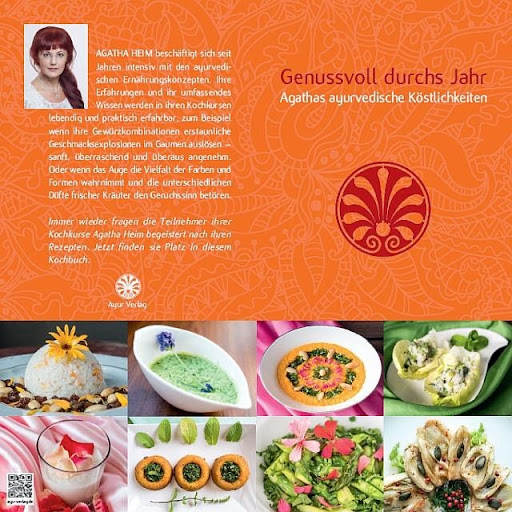 In addition, Agatha Heim will present her Ayurveda cookbook Enjoyable throughout the year – Agatha's Ayurvedic delicacies during the two-day cooking course. Please bring writing materials, containers for samples and a medical mouth and nose cover.
Nutrition as an important pillar in Ayurvedic medicine is individual
Our recommendation: Book a doctor's consultation in our Ayurveda health center in Hotel FONTANA, Bad Kissingen, to have your dosha type determined. In this way you benefit twice over and can apply what you have learned in the cooking course directly to your type. We would be happy to spoil you with an Ayurveda treatment on Saturday, April 23, 2022 , before the cooking class .
Dates for the weekend cooking class
Saturday, April 23, 2022, 2:00 p.m. – 7:00 p.m
Sunday, April 24, 2022, 9:00 am – 2:00 pm
Course location: school kitchen of the Anton-Kliegl-School (on the ground floor), entrance Pfalzstrasse,
Platz Heimattreue 1, 97688 Bad Kissingen.
Price: The entire cooking class costs €190. The price includes the course documents, groceries, spices and drinks (tea, water).
Registration
organizers are the municipal adult education centers in Bad Kissingen and Hammelburg.
Please register there for the following course:
34180KG Ingredients for a healthy life – an Ayurvedic cooking seminar
https://www.vhs-kisshab.de/programm/gesundheit/kurs/Zutaten-fuer-ein-gesundes-Leben-ein-ayurvedisches-Koch-Seminar/22134180KG#inhalt